Understanding the Different Types of Charges on your Water Bill
Water bills are made up of more than just charges for water use – they also include charges for sewerage. In some cases, there will also be charges included for use and installation of infrastructure. There are many licensed water providers in the UK to choose from, and you are not always stuck with your current supplier! Prices will differ slightly from supplier to supplier so it is worthwhile to do your research.
Water and sewerage charges do change every year, prices rising and falling in-line with inflation and market forces. Prices also vary dependant on the region of supply as well as supplier, as it may be more expensive to provide supply in a rural area as opposed to an area with built-up supply infrastructure. If you have organised your sewerage service and water services to be supplied by two different companies – these will be shown on two separate bills.
Metered Water Charges:
You may be familiar with the use of 'meters' in the home to provide a running calculation of usage for things like gas or electricity. They work in an identical fashion for water. Meters are installed so that an accurate measurement of exactly how much water has been used over a certain time period can be recorded and communicated onwards to your supplier. This helps provide much more accurate billing, and saves consumers money.
There will likely be two charges on your bill classified as metered charges:
Fixed Standing Charge: This is calculated based off of the size of your water meter and covers readings and maintenance fees for your meter.
Variable Volumetric Charge: This charge is directly based on the volume of water you have used.
Unmetered Water Charges:
Most non-domestic properties are metered due to the potential to save money through more accurate billing. There are still some who do not have a meter installed – for any number of reasons. As there is no way to calculate exactly how much water has been used within these properties, water suppliers will not take consumption into consideration when calculating billing.
There will likely be two charges on your bill for both domestic and business customers:
Fixed Charge: This will be based upon the rateable value of the property that is supplied.
Fixed Standing Charge: This covers the customer-related costs of supply. Examples of this would be billing and customer service charges.
If your property has a high rateable value, or you know that you have low water consumption – it may be prudent to enquire about installing a water meter. This will likely dramatically lower your monthly billing, as unmetered water charges are usually much higher than metered.
Sewerage Charges:
If you have combined sewerage and water services (which is common), then you will likely see the billing combined into one invoice. There are a few more charges that are associated with sewerage, and they are important to be aware of:
Surface Water Drainage: Charges related to drainage of rain-water/snow-melt from your property into public sewer.
Highway Drainage: Charges for any water or run-off from roads or pavements into public sewer.
Trade Effluent: This is aimed at businesses in particular. Charges for any waste water or waste liquids that are discharged.
Foul Sewage: Charges for any domestic water waste that are discharged.
There is scope to negotiate on all of these charges. If you are able to prove with relevant paperwork or other proof that you do not use any of these services – then you may be able to access lower charges.
Who Regulates the Water Industry?
Water suppliers are regulated by Ofwat in the UK – The Water Services Regulation Authority. This is a non-ministerial government department, if you think you are being treated in an illegal fashion by your water supplier, or would like to explore legal options – they should be your first port of call. You are able to find their contact information online on their website here:
This is an organisation set up to protect you, the consumer. Whether you are a small business customer, domestic customer, or own multiple commercial properties around the UK – they are well placed to be able to help you!
Advantages of a Metered Water Supply
| | |
| --- | --- |
| Advantage | Description |
| Ecologically sustainable | By metering your supply – you gain a better insight to your consumption habits, and are able to lower them accordingly. |
| More accurate billing | You are billed for the water you use – rather than fixed charges. |
| Flexible | If you would like to lower your costs for the month, simply use less water! |
| Cheaper | Generally speaking, metered charges are cheaper than unmetered charges. |
| Troubleshooting | If you have a leak or problem somewhere in your supply – you will be able to find it much more quickly! Billing will be higher than relative consumption – indicating a problem. |
Understanding your Water Bill – Supplier Specific
So far – a general overview has been provided of the water supply industry in the UK. We have covered the basic charges associated with most water and sewerage bills, but will now move on to supplier specific billing explanations.
WaterPlus Customers: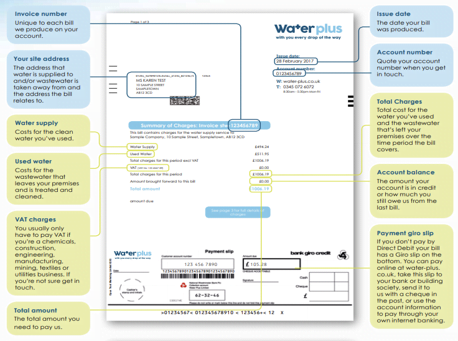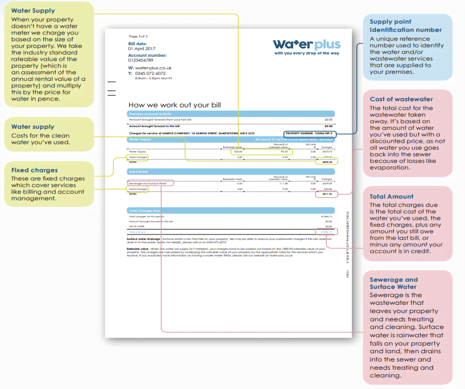 This is a very comprehensive billing invoice for non-metered supply customers. For metered customers, the invoice is very similar but with different associated charges. We have highlighted the location of the SPID number within this document, as it is incredibly hard to spot!
Clear Business Customers:
Castle Water Customers:
Business Stream Customers: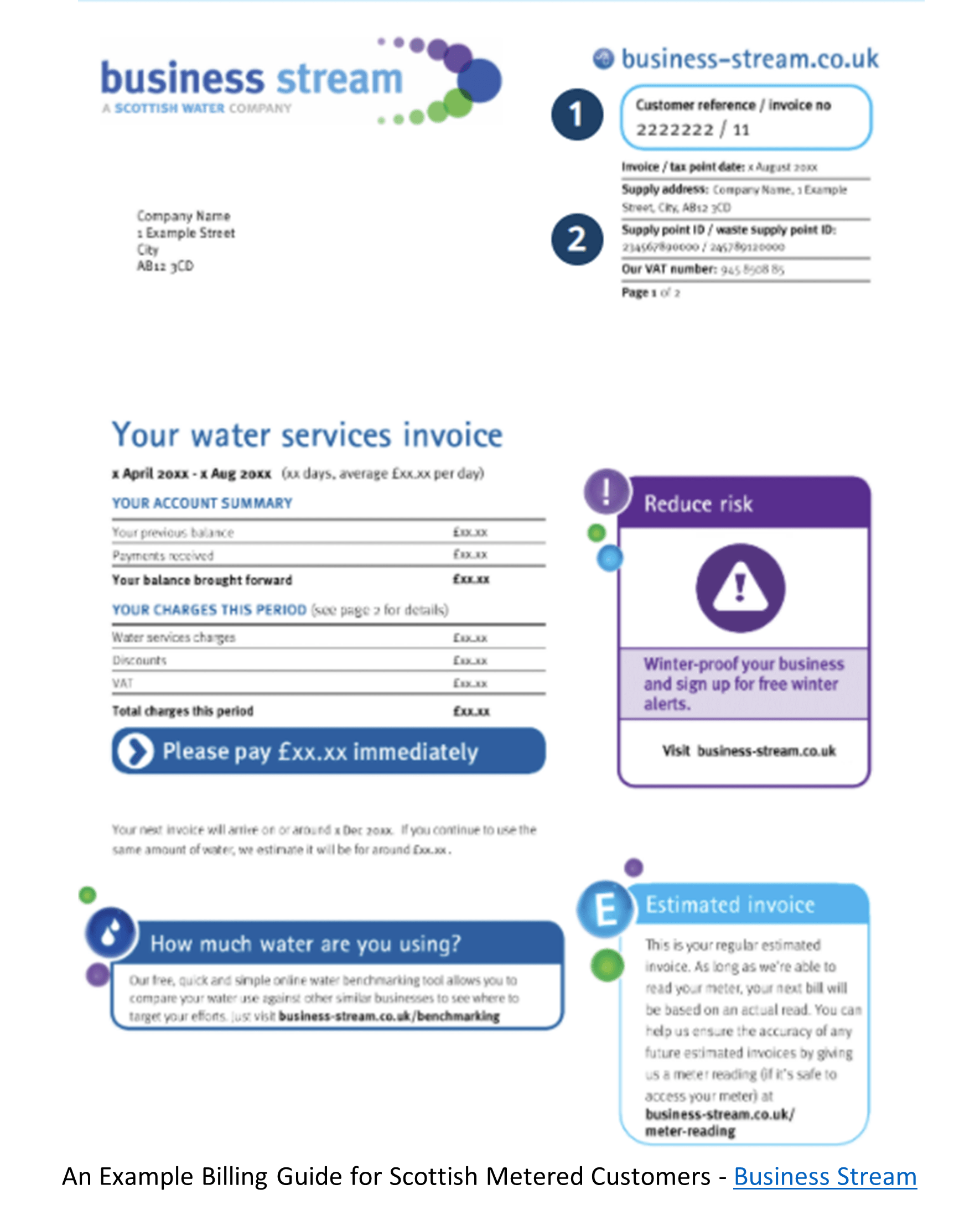 Wave Utilities Customers: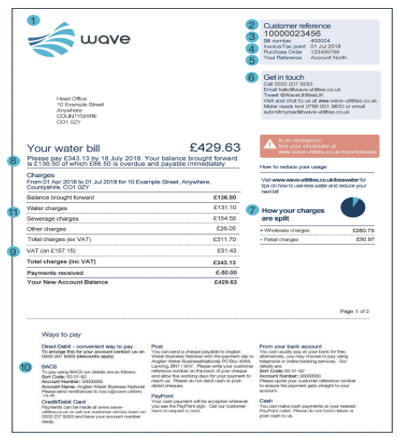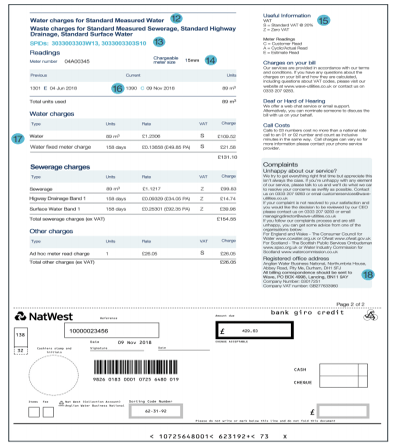 For more information about this post and how Energy Solutions can help with your Electricity, Gas, or Water, click on the links, or check out the contact details at the bottom of the page.