Who is your distributor, and how are they affecting the price you pay?
Distributors are responsible for the physical Energy Network – the actual pylons, underground cables, substations etc. Everything in fact, from the power station to your commercial electricity meter. When there's a power cut, or cables are downed by bad weather, it's the distributor that deals with it, not your energy supplier (although they can be part of the same company). This is one of the reasons why changing suppliers is easy – the electricity supplier is not responsible for the cabling, metering, etc – basically anything that could cause issues.
If you want to upgrade or downgrade your energy supply, this is dealt with by your local distributor. If you're adding large-scale solar panels, wind turbines or any other generation to your site and want to sell electricity back to the grid, once again, it's the distributor that we would work with. Knowing your PES/Distributor area will also help you find the right price. That's because different areas have different standing charges and so on.
If you would like help with a new site/supply please get in touch. We can help you find the information you need and ultimately save time and money.
PES / Distributor Areas
In 1997, following the privatisation of the electricity industry, there were 14 Public Electricity Suppliers (PES) in the UK, which replaced the old area and Scottish electricity boards. Whilst the geographical areas of these former PESs remain unchanged, the industry itself is somewhat different. Although distribution has been separated altogether from the supply, the former PES areas are used as the basis of current day distribution areas. The PES, or Distribution area, that you are in has a significant effect on your energy costs. This applies to standing charges and availability charges, as well as unit rates.
To find out which PES/Distributor area your site is in, simply consult the map below. Moving the mouse over the various areas shows the postcodes covered – useful if you're not sure which area you're in. Each area on the map links to a profile of the various distributors and their history and a full list of the postcodes covered.
UK Distributor Map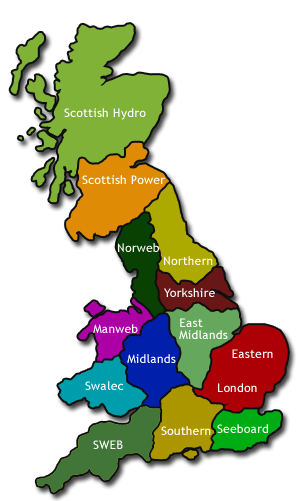 Follow the links if you need help upgrading or downgrading your energy supply or just finding out your Mpan and Supplier.
What's your PES Area? To search our database please enter the first part of your postcode, e.g. EH1 3 or W1 4.