Knowing your region and supplier will help you save
The map below shows which water company supplies each area of England and Wales. There are 32 regulated companies in the water and sewerage sectors:
10 regional companies provide both water and sewerage services.
9 regional companies providing water services only.
5 local companies providing either water or sewerage services or both.
8 water supply licensees offering water and sewerage services to large use non-household customers who can access competition.
The majority of customers are served by monopoly suppliers for their water and sewerage services. Your bill should tell you which company supplies your water and sewerage services.
You may receive your water supply from one company and your sewerage services from another. This means that you may get two separate bills.
Click on a water company to find its contact details.
Water supply licensees are not tied to specific areas of the country. Find their contact details.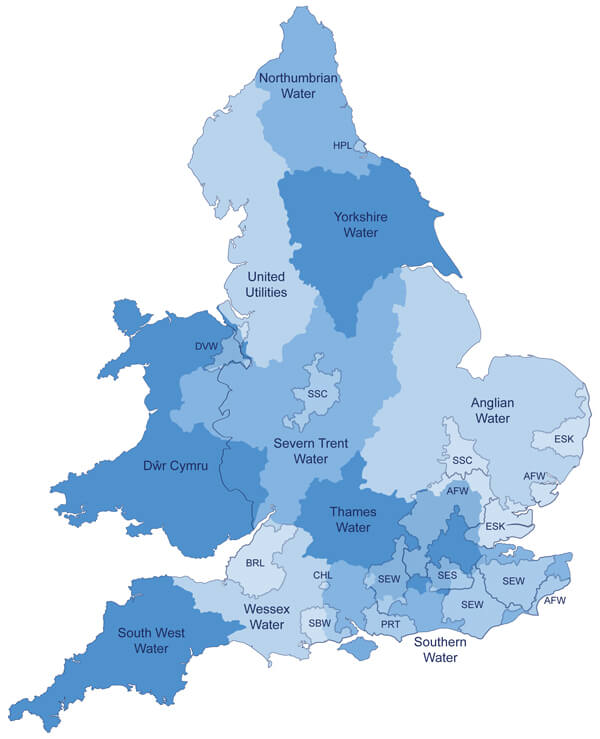 Key
AFW = Affinity Water
BRL = Bristol Water
CHL = Cholderton & District Water
DVW = Dee Valley Water
ESK = Essex & Suffolk (part of Northumbrian Water)
HPL = Hartlepool (part of Anglian Water)
PRT = Portsmouth Water
SBW = Sembcorp Bournemouth Water
SES = Sutton & East Surrey Water
SEW = South East Water
SSC = South Staffs Water
Local water companies' contact details
There are a number of other companies who provide regulated water and sewerage services whose areas are too small to show on this map. They are:
Albion Water Ltd
Head Office Address:
Harpenden Hall
Southdown Road
Harpenden
Herts
AL5 1TE
Phone: +44(0)1582 767720
http://www.albionwater.co.uk/
Independent Water Networks Ltd
Head Office Address:
Driscoll 2
Ellen Street
Cardiff, CF10 4BP
Phone: +44 (0)845 055 6196
http://www.iwnl.co.uk/
SSE Water Ltd
Head Office Address:
55 Vastern Road
Reading RG1 8BU
Phone: +44 (0)118 958 0100
Fax: +44 (0)118 953 4028
www.southern-electric.co.uk/youraccount/water/
www.swalec.co.uk/youraccount/water/
Peel Water Networks
Peel Dome
The Trafford Centre
M17 8PL
Phone: 0161 629 8200
Fax: 0161 629 8332
http://www.peel.co.uk/pwnl/
Veolia Water Projects
Kings Place
90 York Way
Fifth Floor
London
N1 9AG
General enquiries: 0207 843 8500
Fax: 0207 843 8560
http://www.veoliawater.co.uk/