The LDZ Map, who is your gas distributor, and how does this affect the cost?
Gas, whether from the North Sea, pipelines from Europe or delivered as LNG (liquified natural gas), travels through the high pressure transmission system, owned by National Grid, and then through the medium and low pressure distribution networks to reach the consumer. The gas distribution networks (GDNs) are the penultimate stage in the delivery process. There are eight distribution networks throughout the British Isles which are owned by Cadent, Northern Gas Networks, SGN (formerly Scotia Gas Networks) and Wales & West Utilities. These are shown on the map below, together with the ENA member independent gas transporters (IGTs) which operate nationally.
If you want to upgrade, downgrade or get a new gas supply, then this is dealt with by your local distribution network. If you need help with a new site/supply please get in touch, we can help you find the information you need and save time and money.
Knowing your LDZ (Local Distribution Zone) or Distributor area will also help you find the right price, different areas have different standing charges, transmission and metering costs..
What's your LDZ Area? To search our database please enter your postcode.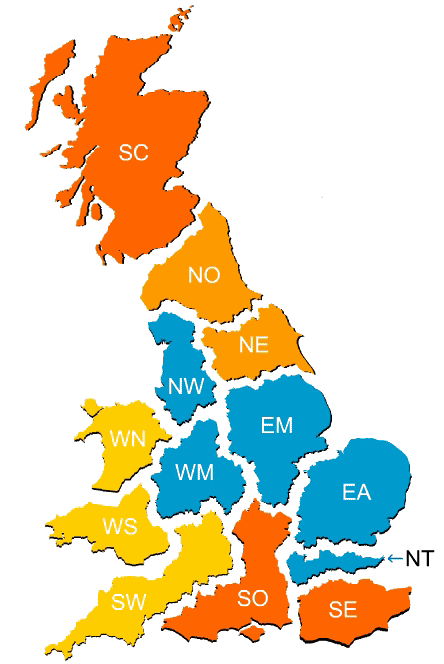 Network Map

Network Company Name

SGN

Network Short Code

SCT – Scotland

LDZ(s)

Network Map

Network Company Name

Northern Gas Networks Ltd

Network Short Code

NOE – North of England

LDZ(s)

Network Map

Network Company Name

Network Short Code

NWT – North West LDN – London
WMD – West of Midlands
EOE – East of England

LDZ(s)

NWT – North West
WMD – West Midlands
EM – East Midlands
EA – East Anglia
NT – North Thames

Network Map

Network Company Name

SGN

Network Short Code

SOE – South of England

LDZ(s)

Network Map

Network Company Name

Wales & West Utilities

Network Short Code

WTW – Wales & The West

LDZ(s)