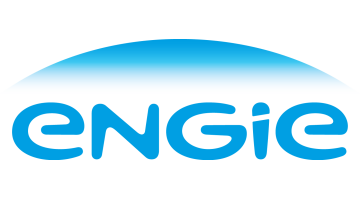 ENGIE North America Awards & Accolades
ENGIE, a leading global energy company, has received numerous awards and accolades in recognition of its commitment to sustainable energy solutions and outstanding service. With a wide range of services and subsidiaries, ENGIE has established itself as a trusted supplier in the energy industry.
One of ENGIE's notable achievements is its recognition for renewable energy initiatives. Through its website ev.engie.co.uk, ENGIE offers electric and gas solutions that promote clean energy alternatives. The company's focus on low-carbon energy and infrastructure has earned it accolades for its contribution to the renewable energy sector.
ENGIE's commitment to sustainability is further highlighted by its efforts in energy management. The company has developed innovative strategies to help businesses optimize their energy consumption and reduce their environmental impact. Its executive team, including the Chief Executive Officer and the Executive Vice President, plays a crucial role in driving ENGIE's corporate initiatives towards a greener future.
ENGIE's dedication to customer service is reflected in its customer support channels, including its customer service number and online login portal for UK customers. The company strives to provide excellent service and promptly address customer inquiries and concerns. With its UK head office based in Newcastle, ENGIE has established a strong presence in the region and has received positive reviews for its gas and electric services.
As a global energy company, ENGIE operates in various countries and markets. Its subsidiaries and services span multiple sectors, including renewable power generation, energy storage, and facility management. The company's wide-ranging capabilities enable it to offer tailored solutions to clients, addressing their unique energy needs.
ENGIE's success and recognition have not gone unnoticed. It has received awards and accolades for its financial performance, corporate leadership, and contributions to the renewable energy industry. These recognitions affirm ENGIE's position as a leader in the energy sector and its commitment to providing sustainable and innovative solutions.
What is the meaning of ENGIE?
ENGIE is a prominent global energy company that offers a wide range of services and solutions to customers worldwide. The name "ENGIE" does not have a specific meaning but serves as the brand identity for the company. With a diverse portfolio and a focus on sustainability, ENGIE aims to shape the future of energy.
ENGIE provides a comprehensive suite of energy-related services, including gas, electric, and renewable energy options. Through its website ev.engie.co.uk, customers can access information and resources related to ENGIE's offerings, such as electricity tariffs and energy management solutions.
As a business, ENGIE operates in various sectors, serving both corporate clients and individuals. The company has a strong presence in the UK, with its headquarters located in Newcastle. Customers can reach ENGIE's customer service through dedicated contact numbers and login portals specific to the UK market.
ENGIE's global reach is reflected in its subsidiaries and offices, including ENGIE UK Head Office and ENGIE Power Ltd. The company's commitment to sustainability and low-carbon energy solutions is evident in its operations and portfolio. ENGIE engages in renewable power generation, energy storage, and offers related services to promote a greener future.
The company's focus on sustainability is not only demonstrated through its business practices but also through its efforts to provide energy solutions that have a positive impact on the environment and society. ENGIE has transitioned from its former name, GDF Suez, to better align with its vision and commitment to sustainable energy practices.
With its extensive experience and expertise in the energy sector, ENGIE has successfully developed solutions for various industries and sectors. From large businesses to individual consumers, ENGIE offers customized energy services and solutions to meet their unique needs.
What is the mission of ENGIE energy Access?
The mission of ENGIE Energy Access is to provide reliable and sustainable energy solutions to underserved communities in Africa and Asia. ENGIE Energy Access aims to improve the lives of millions of people by expanding access to clean and affordable energy, promoting economic development, and contributing to a sustainable future.
As a subsidiary of ENGIE, a global leader in the energy sector, ENGIE Energy Access leverages its expertise and resources to address the energy challenges faced by off-grid and underserved communities. Through its operations, ENGIE Energy Access offers a range of energy solutions, including solar home systems, mini-grids, and productive use appliances.
One of the key goals of ENGIE Energy Access is to accelerate the transition to clean energy sources and reduce reliance on fossil fuels. By providing renewable energy solutions, such as solar power, ENGIE Energy Access contributes to the reduction of greenhouse gas emissions and promotes a low-carbon future.
ENGIE Energy Access operates in various countries across Africa and Asia, with a focus on areas where access to electricity is limited or non-existent. By expanding its energy supply and services, ENGIE Energy Access enables individuals and businesses to thrive, fostering economic growth and creating opportunities for development.
The company is committed to delivering reliable and high-quality energy services to its customers. ENGIE Energy Access ensures that its energy solutions are tailored to meet the specific needs and requirements of the communities it serves. Through its customer-centric approach, ENGIE Energy Access strives to improve the quality of life and empower individuals to reach their full potential.
Overview of the company
Engie is a major electricity generator in the UK. It owns and operates 12 Power Stations. It also trades UK power, UK gas, EU carbon and coal. ENGIE Energy UK decided to exit the UK residential energy supply market and it now supplies electricity and gas to business customers. In 2020 it signed a deal to sell its UK residential gas and electricity customer base to Octopus Energy. Under the agreement, Octopus Energy got new, 70,000 residential energy customers. ENGIE employs 17,000 people and is committed to delivering zero-carbon energy supplies to businesses and local authorities.
International structure
ENGIE Energy UK is part of the ENGIE Group. Engie SA is a French electric utility company that is based in La Défense, France. The company was formed in 2008 and it now employs around 170,000 people worldwide. Its annual revenue is estimated at €60.1 billion. The group's goal is to speed up the transition towards a carbon-neutral world, lower energy consumption and develop environmentally-friendly energy solutions.
ENGIE has a number of subsidiaries. The overview of the main ones can be found in the table below:
Subsidiary
Description
GrDF – Gaz réseau distribution France
a subsidiary of gas distribution
the main gas distributor in France and Europe
transports gas to customers
employs around 12000
ENGIE Cofely
subsidiary of energy efficiency and environmental services
has an annual turnover of €2,5 billion
employs 12000 people
ENGIE IT – Engie Information & Technologies
IT subsidiary
founded in 2012
brings IT to energy transition
Products and services
ENGIE specialises in three main activities: services, business energy, and regeneration. It delivers sustainable energy and helps businesses with energy management. ENGIE provides businesses with expertise necessary to saving money on energy supplies and optimising energy consumption.
Specialists working for ENGIE have resources and experience to respond to needs of all kinds of businesses, ranging from small office premises to big industrial organisations. ENGIE analyses specific requirements of each business that uses its supplies and helps them undertake steps to meet their energy and environmental objectives.
Its regeneration services include repairs, neighbourhood refurbishment, building maintenance, creating retirement houses, and housing development. Through ameliorating people's living and working conditions, ENGIE wants to make a positive change in its customers lives. It works in partnership with local authorities to deliver new homes and facilities around the UK.
Is ENGIE green?
Under the Fuel Mix Disclosure Regulations introduced in 2005, all electricity suppliers in the UK have to publish details of what fuels they use to generate their electricity. Based on that information customers can verify what is the supplier's impact on the environment. The table below contains information on ENGIE's fuel mix.
| | | |
| --- | --- | --- |
| Fuel | ENGIE Fuel Mix | UK Fuel Mix |
| Coal | 4% | 4% |
| Natural Gas | 44% | 39% |
| Nuclear | 5% | 17% |
| Renewable | 44% | 38% |
| Other | 3% | 2% |
ENGIE recognises that the climate crisis is happening and it aims to lower its impact on the environment. ENGIE believes that achieving a zero carbon future is possible. Almost half of ENGIE's supplies come from renewable sources, and the supplier encourages its customers to reduce their carbon emissions. ENGIE
ENGIE also aims to make premises of its customers and buildings where it operates zero carbon. To achieve that it invests in decarbonised, sustainable and decentralised infrastructure.
The graphic below shows ENGIE Assets in the UK. The supplier focuses on low carbon assets, including storage, and wind and solar assets.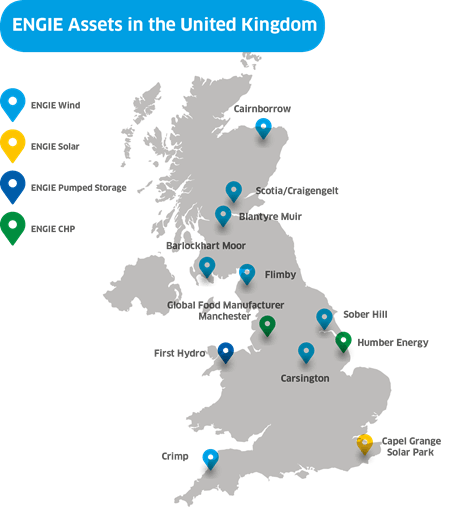 ENGIE also helps its customers switch to Electric Vehicles (EV), and promotes responsible business that monitors carbon emissions and implements green solutions. ENGIE facilitates the installation of EV charging stations.
ENGIE Board of Directors
ENGIE is managed by the Board of Directors. ENGIE makes sure that there is a balanced representation of men and women in the Board. It also aims to promote diversity so members of the Board represent several nationalities. Below you can find the overview of who runs the company.
Directors elected by the General Shareholder's Meeting:
Jean-Pierre Clamadieu
He is the Chairman of the Board of Directors of ENGIE, and the Chairman of the Strategy, Investment and Technology Committee. Jean-Pierre Clamadieu started his career by working for the French Ministry of Industry. He became the Director and Chairman of the Board of ENGIE in May, 2018.
Fabrice Brégier
He is a Member of the Appointments, Compensation and Governance Committee. He used to serve as an Advisor to multiple French Ministers. Since 2018 he has been working as the Chairman of Palantir Technologies France, a company that specialises in Big Data.
Françoise Malrieu
She is the Chair of the Appointments, Compensation and Governance Committee, a Member of the Audit Committee, and a Member of the Ethics, Environment and Sustainable Development Committee. She helps businesses implement practices that have a positive social impact. She used to specialise in the banking industry.
Ross McInnes
He is the Chairman of the Ethics, Environment and Sustainable Development Committee, a Member of the Audit Committee, and a Member of the Strategy, Investment and Technology Committee. Since 2018, he has been in charge of promoting France to British companies. The task was assigned to him by the Prime Minister. Outside of ENGIE he is also the Chairman of the Board of Directors of Safran, an international high-technology group that supplies software and equipment in the fields of Aerospace and Defense.
Marie-José Nadeau
She is the Chair of the Audit Committee, and a Member of the Strategy, Investment and Technology Committee. She holds the title of Advocatus Emeritus that she was awarded by the Quebec Bar for her contribution to the legal profession. She also specialises in the fields of education and environment.
Lord Ricketts of Shortlands
He is a Member of the Appointments, Compensation and Governance Committee. He was appointed a member of the House of Lords in October 2016. In the past he served as the Permanent Representative of the United Kingdom to NATO, and in 2010 he was named National Security Advisor of the United Kingdom.
Directors elected by the General Shareholders' Meeting on the recommendation of the French State:
Patrice Durand
He is a member of the Strategy, Investment and Technology Committee. Before joining ENGIE he worked as the Deputy CEO in charge of finance and operations at the Ingenico Group. Since 2016 he has been a director of both French and International companies.
Mari-Noëlle Jégo-Laveissière
She is a member of the Ethics, Environment and Sustainable Development Committee. Outside ENGIE she is the Deputy CEO of the Orange Group, Chief Technology and Global Innovation Officer.
Director representing the French State, appointed by ministerial order:
Isabelle Bui
She is a member of the Audit Committee, a member of the Strategy, Investment and Technology Committee, and a member of the Appointments, Compensation and Governance Committee.
Directors elected to represent employees:
Christophe Agogué
He is a member of the Ethics, Environment and Sustainable Development Committee. Apart from being ENGIE's Director, he is also an author of essays, novels, and plays.
Alain Beullier
He is a member of the Appointments, Compensation and Governance Committee. He became a Director of ENGIE in January 2009. He is sponsored by the Chemical Energy Federation – CFDT trade union.
Philippe Lepage
He is a member of the Strategy, Investment and Technology Committee. He is also a member of the French Gas Association, where he represents employees for the CGT union to the gas sectoral social dialog committee of the European Commission.
Director elected by the Shareholder's Meeting to represent employee shareholders:
Christophe Aubert
He is a member of the Audit Committee. He is sponsored by the Federation Construction Bois – CFDT trade union.
Key financial data
ENGIE generated 93.9 billion euros in revenue in the 2022 financial year, up from approximately 58 billion euros the previous year.
The company reported a net recurring income of 5.2 billion euros ($5.55 billion), marking a significant increase from the 2.9 billion euros recorded in 2021. Additionally, the full-year earnings before tax and interest reached 9 billion euros, demonstrating growth from the 6.1 billion euros achieved in 2021.
Contact
mail: customerservice@engie.com
post: Engie, PO Box 30, Newcastle Upon Tyne, NE12 2FP
Websites
Social Media
Phone numbers
0800 280 8000 – General enquiries
0800 999 5080 – Customer Services Department
0333 666 0276 – Business Energy Sales Advisor Line
0800 130 3600 – Customer Service Team for small and medium sized businesses
Summary
ENGIE is an extremely influential energy company that combines supplying low carbon energy, great quality services and regeneration into a unique, green approach. Its main goal is to promote zero carbon energy and make it available for all businesses in the United Kingdom. It helps customers reduce their energy consumption and transition to environmentally-friendly energy sources. It uses innovative technologies and builds long-lasting partnerships. It supports responsible business by encouraging its clients to consider the impact their companies have on other people and the world. The company works closely with local authorities and residents making sure they are informed about ENGIE's activities in the area. Thanks to ENGIE many homes around the UK have been repaired and turned to modern spaces where people can enjoy good living conditions. ENGIE wants to make a positive change in people's lives and inspire them to be greener and more sustainable.