Overview of the company
Clear Business is a business-to-business essential services provider, which is a part of the Verastar Group. It was established in 1998 as Scotland Water provider but it has significantly expanded its services and it now offers Green Electricity, Gas, Water, Phone Lines, Broadbans, Mobile, and Insurance. It specialises in business water, telecoms, energy and insurance. Clear Business Water is the largest independent water supplier in Scotland and it has recently entered the water market in England. The company is licensed to provide water supply and wastewater removal retail services to businesses. It now serves 27% of the Scottish market. Clear Business Water helps businesses save money on water bills and wastewater service costs. The company's customers can enjoy consolidated billing. Clear Business Water provides customers with exceptional customer services, as proven by over three thousands positive reviews on Trustpilot.
Services
Clear Business is a cross-border provider that offers a range of services.
Business Water
Clear Business Water has been involved in the Scottish Water Market since 2013. Since then, it helped its customers save over £30 million for water services. The company guarantees to save customers money on water and wastewater services compared to their area's default rate. Clear Business Water promises that if customers are offered a better deal within 30 days of the contract start date, the company will beat this price.
When customers switch to Clear Business Water from a different water supplier, the company will provide water and wastewater services using the existing pipes so they don't have to worry about water supply disruption. Moreover, there is no fee to switch to Clear Business Water.
Business Energy
Clear Business gives customers the chance to fix their energy prices for the next three years, which allows them to avoid being negatively affected by rising energy costs. Clear Business allows customers to save up to £3000 a year and it is proud to be a green electricity provider.
The company's energy comes from wind farms, so, by switching to Clear Business, companies can reduce their carbon footprint and protect the environment. The green tariffs that Clear Business offers come at no additional costs to the regular tariff.
Clear Business's fuel mix for electricity supplied between 1st April 2019 to 31st March 2020 is:
| | |
| --- | --- |
| energy source | Clear Business's fuel mix (%) |
| Renewables | 100% |
Business Insurance
Clear Business works in partnership with its sister company The Insurance Octopus to offer insurances tailored for the individual needs of each client. Customers can get insurance cover from as little as £8.03 per month. The Insurance Octopus already protects more than 30,000 small businesses so it knows the market very well.
The company offers all kinds of insurance, including:
restaurant insurance
pub and hotel insurance
retail insurance
office insurance
landlord insurance
hair and beauty insurance.
Whatever your business's niche is, you can be sure to get assistance from Clear Business.
Business Telecoms
Clear Business helps customers keep their businesses connected with a range of Telecoms services. Customers can enjoy Business Broadbands designed for the individual needs of their business. The main Business Broadband packages that the company offers are:
| | |
| --- | --- |
| Absolute Fibre | Unlimited Broadband |
| download speed up to 76Mbpsunlimited usagefree wireless router includeddynamic line management that constantly tests the line to find the fastest available connection | download speed up to 17Mbpsunlimited usagefree wireless router includeddynamic line management that constantly tests the line to find the fastest available connection |
If customers want to make a switch to Clear Business but would have to pay an Early Termination Charge from their current provider, Clear Business offers compensation of £200 that will be transferred to the customers' bank account.
How to switch to Clear Business?
If you are interested in Clear Business's Water services, you will need to let the company know what is the address of the business site you want to get the water supply to. Keep in mind that this information can be different to your registered address. In addition to that, you will need to find your Supply Point Identification Number (SPID).
Benefits of One Bill
If you switch to Clear Business, you will be able to pay for six essential services the company offers with just one bill. All monthly services that you get from Clear Business, will be invoiced on One Bill and you will pay for them using Direct Debit. No matter how many services you get from the company, you will be able to get One Bill.
Why choose Clear Business?
There are a number of reasons why switching to Clear Business is a great decision. The main ones are:
Clear Business has over 20 years of experience.
Clear Business serves over 160,000 customers.
Clear Business makes switching easy thanks to the company's Managed Switching Service.
Clear Business has a UK based customer service team.
Clear Business gives customers the chance to receive just one bill for all their services.
Clear Business Water complaint procedure
Clear Business Water strives to provide customers with the best service possible in terms of water and wastewater services. If, however, you are not satisfied with your water supply, you can raise a complaint.
The best way to do it is to call 0333 014 3131 and explain to Customer Service advisors what is the nature of the problem. They will try to do everything they can to resolve the problem during the call. If they cannot do it, your complaint will be passed to the Customer Resolution Team, which will start an investigation and get back to you on the phone or in writing.
If you are unhappy with the result of the process, you can reach out to the Scottish Public Services Ombudsman (SPSO) to take a look at your case. If you want to contact the SPSO, however, you need to first exhaust Clear Business Water's complaints procedure.
Board of Directors
John O'Donnel – Sales Director
John was appointed Sales Director of Clear Business in 2013. He has almost three decades of experience in the sales industry. He has been extremely successful in account management for several companies and he has great entrepreneurial skills.
Stewart Yardley – Director
Stewart was appointed Director of Clear Business in 2013. He is responsible for Sales and Operations from the company's headquarters. Stewart has extensive experience in the utilities industry and he specialises in operations management, sales operations and sales management.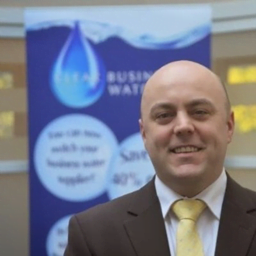 Paul Nicholas Doherty – Director
Nicola Jayne Smith – Director
Gillian Elizabeth Hill – Secretary
Financial data
| | | |
| --- | --- | --- |
| an aspect of financial activity | year ended April 2020 | year ended April 2019 |
| Turnover | £70.9 million | £68 million |
| Total Assets | £38.71 million | £38.71 million |
| Net Assets | £38 million | £26.45 million |
| Cash in Bank | £557k | £246k |
| Total Liabilities | | £-12.26 million |
Contact information
Clear Business established a self-serve portal called Customer Zone, where customers can view their invoices for the last year, submit their meter readings, manage their Direct Debit, make payments, and update their contact details. Customer Zone can access the platform whenever they want.
If you want to talk to Clear Business's customer service team, call 0333 014 3131. The lines are open Monday to Friday 8 am to 6 pm. If you want to contact sales team, call 0330 094 7685.
You can also send your enquiry to service@clearbusiness.co.uk
If you'd like to speak to the team in person, you can visit the company's head office located at: No.1 Dovecote, Old Hall Road, Sale, M33 2GS.
If you want to find Clear Business on social media, you can visit their page on Linkedin or find them on Twitter.
Summary
Clear Business was established in 1998 and over the last 20 years it has grown not only to be Scotland's largest independent water supplier but also started offering a range of other services. Clear Business's main mission is to make the lives of small businesses easier and help them save money. Clear Business is committed to offering the most competitive prices and it offers various contracts to make sure that businesses can find something that matches their needs. Thanks to their services and great approach to customers, Clear Business and the Verastar Group have been recognised by many national and regional awards. Clear Business operates in an honest and transparent way and values customers' feedback. The company cares about the environment, hence all its energy comes from renewable sources. Clear Business uses wind power to generate its electricity and its green tariffs are not more expensive than standard tariffs customers might find elsewhere.