Updated: Change to OPRED (BEIS) contact email addresses
Overview
Environmental and Emissions Monitoring System (EEMS) is the environmental database of the UK oil and gas industry. It provides measured and calculated data relating to emissions from offshore installations and associated onshore terminals.
EEMS provides measured and calculated data relating to emissions from offshore installations and associated onshore terminals. The system is managed by Collabro and is accessible to government through OPRED (BEIS), industry and Oil & Gas UK.
The EEMS website is intended to assist all parties with an interest in environmental issues to understand how the industry operates an effective policy for reporting on the environmental impact of its activities. Access to the system itself is restricted to authorised users through controlled usernames and passwords.
Functionality
Oil & Gas UK has sponsored EEMS since 1992 on behalf of its member companies. It views the maintenance of a high quality, accurate database of environmental data as key to fulfilling the industry's commitment to a cleaner and safer North Sea environment. OPRED (BEIS) regards the EEMS system as a key element in its environmental regulatory function. It is the mechanism through which oil companies can submit their environmental returns, which are used by OPRED (BEIS) for government reporting requirements.
Contacts
Collabro
The main EEMS help desk is maintained by Collabro:
email: eems@collabro.co.uk
tel: 01224 853453
fax: 01224 853429
Contact the help desk for:
reference data changes including sample points, turbines, etc
queries on permits in relation to returns
asset transfer
For user group activities, contact Gwen Moran at gwen.moran@collabro.co.uk or 01224 853423.
UK oil portal
For user support: phone 0300 068 5793 or email ukop@ogauthority.co.uk
OPRED (BEIS)
For assistance with OPRED (BEIS) requirements for EEMS, email the Business Support Team at bst@beis.gov.uk
Governance
The table below illustrates the governance structure for EEMS.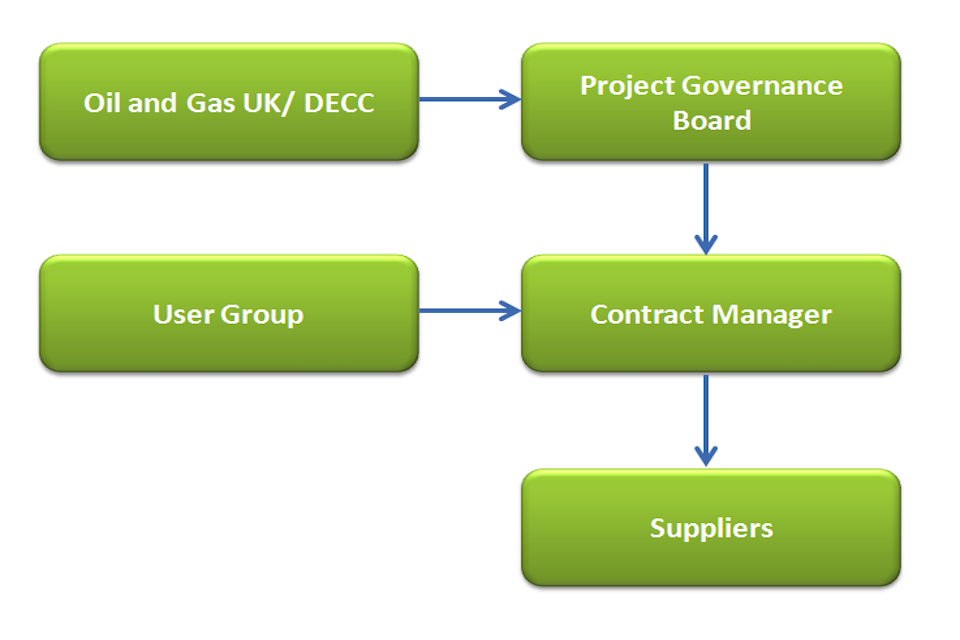 The project's governance board reports to Oil & Gas UK and OPRED (BEIS), and comprises of representatives from Oil & Gas UK and OPRED (BEIS) as well as an IT and environmental representative from each participating oil company.
The contract manager, currently Collabro Ltd, sits on the board for reasons of reporting and recommendation. It also handles enforcement issues and manages the suppliers (currently Fivium Ltd) and issues and concerns of the user group.
Change control, release and the frontline help desk is managed by the contract manager on behalf of the EEMS Governance Board.
The current members of the governance board are:
Derek Saward – OPRED (BEIS)
Colin Brown – OPRED (BEIS)
Mick Borwell – Oil and Gas UK
Sean Reilly – Talisman
Adam Flett – Total
Gwen Moran – Collabro
The user group meets twice a year. Membership is open to any oil company that submits data to EEMS.
FAQs about EEMS

How does OPRED (BEIS) access EEMS data?
OPRED (BEIS) uses EEMS data in the same way as operators do. Once an appropriately qualified user in an operating company has "authorised" a report, it will then become visible to OPRED (BEIS). OPRED (BEIS) will have more flexibility in the new system to extract reports.
What about the OPRED (BEIS) move towards digital signatures?
This is part of the e-Government initiative. Where a document is submitted to OPRED (BEIS) in fulfilment of a statutory requirement, the department will require the document to be accompanied by an unambiguous identification of the originator – and coupled with measures to ensure the document cannot then be modified by other parties. This is to ensure the document can be considered as legally binding. The method of doing this for electronic documents like EEMS reports using digital signatures is being developed jointly by OPRED (BEIS) and the offshore industry. The design of EEMS includes provision for this functionality to be introduced.
If we do invest in internal systems to load EEMS reports directly, how can we be sure future changes in EEMS will not require a rewrite?
The mechanism for handling EEMS reports in the new system is based on well-defined international standards. Each EEMS report is defined as an XML document, and for each there is a corresponding XML schema definition. These schema definitions will completely define the concept of a "valid" document, i.e. the rules under which any report is accepted by EEMS. The schema definitions are held in the EEMS database and are available to all users. Over time as the definitions change to reflect amended reporting requirements, the operator community will be able to download the new schema definition and adjust their software accordingly.
The XML schema definitions for EEMS will be submitted to POSC for consideration as a standard for the transmission of environmental data. We can therefore expect a convergence over time to a consensus on this standard, which all software vendors will be encouraged to adopt. The actual interface to EEMS for all reports will be using the SOAP standard for web services. This is a document-style interface that will not need to change even if the structure of the underlying XML documents change.
Does EEMS offer support for within-year calculation of atmospheric emissions, to help us manage our new requirements for CO2 reporting under EU ETS?
It is not intended that EEMS should do this. Atmospheric emission reporting will continue to be in the form of an annual return, on the basis of which OPRED (BEIS) will prepare its reporting to the EU. The calculations are sufficiently complex and in some cases dependent on assumptions of a fixed 12-month duration for the emissions. It has not been possible for the first release of the new EEMS to include any directly supported intermediate calculation facility, which could be relied on to provide accurate estimates of emissions to date.
EEMS technical documents
EEMS supporting documentation
New reports
Guidance

Overview
(PDF, 88.4KB, 7 pages)



Drill fluids
(PDF, 128KB, 4 pages)



Atmospheric
(PDF, 131KB, 25 pages)



Aromatic (bi-annual)
(PDF, 22.9KB, 4 pages)



OPPC (monthly)
(PDF, 56.2KB, 2 pages)



Waste
(PDF, 90KB, 10 pages)



Chemicals
(PDF, 83.9KB, 10 pages)



OPPC
(PDF, 37KB, 10 pages)



Radioactivity
(MS Word Document, 1.18MB)

For third party developers
EEMS User Group

EEMS User group minutes – (May 2014)
(PDF, 388KB, 3 pages)



EEMS User group presentation – (May 2014)
(MS Powerpoint Presentation, 2.9MB)



EEMS User group minutes – (February 2014)
(PDF, 138KB, 3 pages)



EEMS User group presentation – (February 2014)
(MS Powerpoint Presentation, 2.64MB)



EEMS User group presentation – (November 2013)
(MS Powerpoint Presentation, 2.64MB)



EEMS User group minutes – (September 2013)
(PDF, 231KB, 3 pages)



EEMS User group presentation – (September 2013)
(MS Powerpoint Presentation, 2.64MB)



EEMS User group minutes – (June 2013)
(PDF, 216KB, 4 pages)



EEMS User group presentation – (June 2013)
(MS Powerpoint Presentation, 2.68MB)



EEMS User group minutes – (March 2013)
(PDF, 154KB, 3 pages)



EEMS User group presentation – (March 2013)
(MS Powerpoint Presentation, 2.64MB)



EEMS User group minutes 1 – (September 2012)
(PDF, 332KB, 16 pages)



EEMS User group minutes 2 – (September 2012)
(PDF, 210KB, 3 pages)



EEMS User group presentation – (September 2012)
(PDF, 5.42MB, 31 pages)