UK Power Networks UKPN is one of the largest companies that own the DNOs (Distribution Network Operators) and it covers a significant part of south-east England, including London. It owns three PES Areas
UK Power Networks carries electricity from the high voltage transmission grid, which is owned and operated by the National Grid, to industrial, commercial and domestic users across these regions. The distribution network stops at the electricity meter, which is owned by the meter operator.
This means that the most common reasons for people to be dealing with UK Power Networks are:
Power Cuts
New Connections
Upgrading or downgrading power supplies
Connecting generation to the grid
Finding out who your electricity supplier is
Power cuts
Twitter feed is not available at the moment.
New Connections
Connection Type
Guaranteed Standard
Average time to receive a quotation
Prices from (excl.VAT)
Average prices (excl.VAT)
Average time to get a connection from payment
1 standard domestic connection
5 days
4 days
£450
£2,000
4 Weeks
Up to 4 standard domestic connections
15 days
5 days
£1,800
£5,000
5 Weeks
Over 4 domestic connections (based on typical 5 connections with service works only)
25 days
7 days
£1,890
£15,000
6 Weeks
Typical small business connection
(up to 69kVA)
15 days
5 days
£452
£4,000
5 Weeks
Multiple small business connections (based on typical 2 connections with low voltage service works only)
25 days
8 days
£3,812
£12,000
6 Weeks
Typical large business connection (HV)
35 days
8 days
£14,212
£65,000
14 Weeks
Extra high voltage connection
65 days
50 days
Price on request
Price on request
2 Years
Unmetered new connections (excluding Local Authority & PFI)
25 days
7 days
£298
£2,417
5 Weeks
These costs and timings are from UKPN and are for general illustration purposes only and are not to be relied upon should you require a more accurate price in respect of specific premises.
Companies
UK Power Networks is owned by the CK Group
UK Power Networks Holdings ltd
Eastern Power Networks plc
London Power Networks plc
South Eastern Power Networks plc
UK Power Networks owns and maintains electricity cables and lines across London, the South East and East of England. The area the company serves covers more than 29,000 square kilometres. UK Power Networks also connects new electricity cables and maintain power equipment. Thanks to UK Power Networks the lights in your house stay on as it delivers a supply of electricity to residents and businesses. You don't pay your bills to the electricity distribution companies, but you can contact them if you have a power cut.
National structure
The map below shows where UK Power Networks operates. Its services cover London, the South East and East of England.
UK Power Networks Distribution Map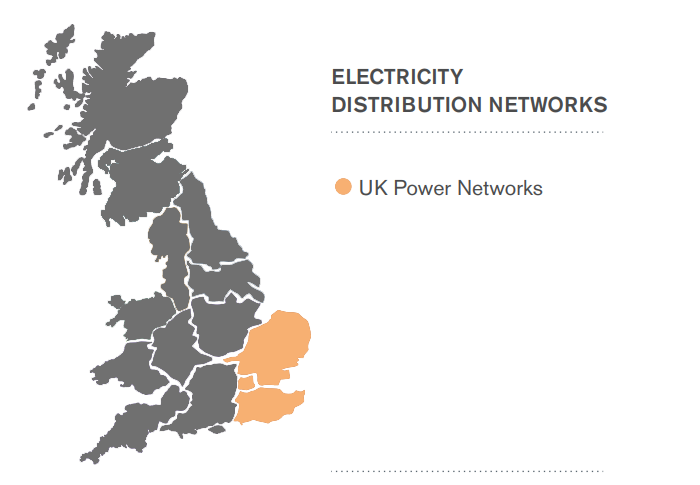 In the past, the company was composed of:
London Electricity that managed the electricity network in London
Eastern Electricity that managed the electricity cables and lines in Norfolk, Suffolk, Essex, Hertfordshire, Cambridgeshire, parts of Buckinghamshire and most of Bedfordshire
SEEBOARD that managed the electricity network in parts of Surrey, Kent and Sussex.
In 1999 Eastern Electricity and London Electricity merged and formed 24seven Utility Services. In 2002, SEEBOARD joined them and a year later 24seven Utility Services rebranded to EDF Energy Networks.
Finally, in 2010 EDF Energy Networks was acquired by the CK Group and renamed UK Power Networks.
UK Power Networks' Services
UK Power Networks owns and maintains electricity cables and lines. It provides services in the following areas:
Installing something new
Connecting a new electricity supply
UK Power Networks can provide domestic, commercial, and industrial customers with a new electricity supply.
Installing a temporary connection
UK Power Networks offers small (less than 70kVa) and large (more than 70kVa) temporary connections.
Small temporary connections are generally needed when someone is building a new property and they need to have electricity during the process, or when an old building is being demolished and a new one built to replace.
Large temporary connections are used for running heavy machinery or powering office sites during building or renovating them
Installing Electric Vehicle Charging Points
Customers can get several types of chargers for electric vehicles.
Small chargers can be installed at homes or businesses where the total demand is lower than 70kVA.
Large or multiple chargers can be set up where the total demand is more than 70kVA. For example, multiple rapid chargers in the street or a car park of your office.
Slow (3kW) or fast (7kW) chargers can be installed on a highway as stand-alone points.
UK Power Networks can also install a charger capable of providing power back to the network – Vehicle to Grid (V2G).
Installing equipment to generate or store electricity
That covers wind turbines, solar panels, heat pumps, energy storage.
Changing an existing supply
Moving an electricity supply
If your electricity cables or pipes are in the way, the company can help you move them. UK Power Networks can also move your energy meter if you want it to be installed in a different part of the house.
Upgrading an electricity supply
If you need more power UK Power Networks can upgrade your supply from single-phase electricity to a three-phase electricity supply.
The company can also help you replace old equipment like meter boxes or fuses.
UK Power Networks can help you disconnect electricity cables at a domestic or small commercial building. That can be needed when a new property is being built to replace an old building.
The company can also disconnect an electricity meter for you if you are moving out of a property.
Making power lines safer
If you ever need to repair a roof or a chimney, replace windows, or build an extension, the power lines might get in the way. Luckily, UK Power Networks can cover them so you can work near them.
Cutting trees near power lines
If trees in your garden are growing close to the power lines, the UK Power Networks can arrange tree trimming for you. During the process, the lines will be switched off temporarily.
The company's commitment to protecting the environment
UK Power Networks is connecting enough renewable energy to power 3.5 million homes. The company wants to contribute to achieving Net Zero carbon emissions by 2050.
UK Power Networks has more than 170,000 individual providers of renewable energy. The company hopes to double it by 2030. That would mean that 8 out of 10 homes and businesses that the company serves will be powered by renewable energy.
Green Action Plan
In 2019, UK Power Networks launched its Green Action Plan where it outlines areas in which it impacts the environment. The plan features clear objectives with deadlines that the company created to be more environmentally-friendly. The main points of the plan are:
reducing waste
reducing water usage
reducing carbon emissions
reducing air and noise pollution
increasing the biodiversity at the company's sites
UK Power Networks became the first distribution network operator in the UK to achieve the certification for Carbon from the Carbon Trust Standard. That's an important step in achieving the goals of the Green Action Plan.
Executive Management Team
Basil Scarsella – CEO of UK Power Networks
Before Basil joined UK Power Networks, he was the CEO of Northern Gas Networks. Basil graduated from the University of Adelaide and has a degree in Economics. From 1998, he served as the CEO of ETSA Utilities, which is an electricity distribution business in Australia.
Nirmal Kotecha – Director of Capital Programme and Procurement
Nirmal joined UK Power Networks in 2011. Before that, he was a Main Board Director at the Highways Agency. His main responsibility was to deliver the Agency's £9 Billion Roads Programme.
Suleman Alli – Director of Customer Service, Strategy, Regulation and Information Systems
Before Suleman joined UK Power Networks, he worked as Managing Director for Accenture. His task was to lead the utility network operations practice in the UK. Suleman has over 15 years of experience when it comes to utilities and performance improvement in the gas, electricity, and water sectors.
Ian Smyth – Director of UK Power Networks Services
Ian joined UK Power Networks 5 years ago to lead the commercial division of the company, called UK Power Networks Services. He has over 2 decades of experience working with leading utilities, governments and regulators in global energy markets.
Barry Hatton, Director of Asset Management
Barry's responsibility is to develop and deploy network and asset strategies that can optimise investment and performance. He has over thirty years of experience in the operations and management of electricity distribution networks.
Key financial data
According to UK Power Networks annual report for the year ended 31 March 2020, the financial information of the company is as follows:
| | | |
| --- | --- | --- |
| financial performance indicator | Year ended 31 March 2020 | Year ended 31 March 2019 |
| turnover (£ million) | 1,725.9 | 1,668.9 |
| EBIDTA (£ million) | 1,270.2 | 1,204.0 |
| Profit after tax (£ million) | 505.8 | 456.1 |
| Cash generated from operations (£ million) | 1,333.5 | 1,220.6 |
| Gross capital expenditure on capital assets (£ million) | 867.9 | 853.9 |
Contact
For general inquiries call 0800 029 4285.
If you're experiencing a power cut, check the live power cut map to see if the company knows about the problem. If the power cut is not showing up there, you can call 0800 31 63 105. You can also call 105, where the lines are open 24 hours a day, seven days a week.
If you don't have any power, or you find yourself in a dangerous situation, fill in the online form to report it.
If you're a new customer call 0800 029 4280 or email myconnection@ukpowernetworks.co.uk for homeowners and businesses.
For commercial and multiple units call 0800 029 4282 or email connections.gateway@ukpowernetworks.co.uk
If you have any complaints call 0800 028 4587 or write to the Customer Service team at UK Power Network, Fore Hamlet, Ipswich, IP3 8AA.
Summary
UK Power Networks is one of 14 distribution network operators that operate in the UK. The company is responsible for the electricity distribution network in London, the South East, and South of England. UK Power Networks also offers maintenance and upgrading services for power lines. The company is not in charge of selling electricity. It just provides the network that the electricity is distributed on and later sold by the suppliers. The history of UK Power Networks dates back to 1948. With over 70 years of experience, the company offers high-quality services and expertise. UK Power Networks is committed to stopping climate change and reducing carbon emissions. That's why it introduced the Green Action Plan in which it set a number of goals to be more environmentally-friendly.