Company History
National Grid PLC is an international electricity and gas utility company based in London, England. It was founded in 1990 and supplies millions of people with electricity and gas across Great Britain and the United States. Before the company's founding in 1990, the Central Electricity Generating Board controlled electricity transmission across Great Britain. Four years earlier in 1986, Margaret Thatcher had pushed British Gas into privatization after many tumultuous years of plant closures and job losses. Once the decision was made to privatize the electricity industry, the firm was formed to handle the transmission of power in the UK with shares of the company being opened up to the general public. Since 1990, the firm has expanded from the electricity transmission business into gas, venture capital, and clean energy initiatives. Through many major mergers and acquisitions, and eventual listing on the London and New York Stock Exchanges, the firm has become an international conglomerate.
Brief Overview of National Grid Today
Today, National Grid looks much different than when it was founded in 1990. National Grid has numerous subsidiaries and has grown internationally. It has also become involved in the gas transmission business as well as becoming an electricity system operator. The latter is incredibly important to ensuring that Great Britain's supply and demand for electricity is balanced across the country. Outside of the day to day operations mentioned above, the company is working toward the larger United Kingdom goal of becoming carbon neutral by 2050. In line with its mission of becoming carbon neutral by 2050, the firm has two independent arms, Nation Grid Ventures and National Grid Partners, that are focused on investing in projects for the future.
National Grid Ventures, founded in 2012, develops and invests in clean energy development projects. A large portion of National Grid Ventures projects are centred around interconnectors between England and mainland Europe. It currently operates three different connectors, BritNed, IFA, and Nemo Link, which were established in 2011, 1986, and 2019, respectively. Each of these interconnectors allows Great Britain to trade energy with other countries depending on supply and demand at the current moment. National Grid Ventures has three more interconnectors, IFA2, North Sea Link, and Viking Link, that are under construction and will link the UK to France, Norway, and Denmark. In addition to connectors, National Grid Ventures is investing in Battery Energy Storage, Smart Metering, and Liquefied Natural Gas services.
National Grid Partners is a Silicon Valley investment firm funding startup companies in both the energy and technology sectors. Currently, National Grid Partners holds stakes in 19 startup companies including AutoGrid, an Artificial Intelligence Energy company, and Climacell, a next-generation weather forecasting company. By splitting their investments between the energy and technology sectors, National Grid Partners will be able to have access to innovative energy solutions as well as the technological infrastructure to support future developments. In addition to its startup energy companies, National Grid Partners is also invested in three funds that invest in their own development projects. The three funds, SparkCognition, Uniphore, and Urbint, invest in a wide variety of projects centred around Artificial Intelligence. It is clear that National Grid Partners is placing a heavy emphasis on AI in the future of the energy sector.
Map of Businesses
While National Grid began as an energy transmitter in the UK, it has grown into other markets as well. After a key merger with Lattice Group in 2002, it became involved heavily in the natural gas transmission business and has remained a major player for the past 20 years. Also in 2002, the company made its first acquisition of a utility in the United States, Niagara Mohawk Power Corporation. Since then, the firm has continued to grow and acquire more utilities both domestically and internationally. One major step was for the company to become listed on various stock exchanges. National Grid (LSE:NQ)(NYSE:NGG) was first listed on the London Stock Exchange in December 1995 then the New York Stock Exchange in June of 1999.
National Grid UK
Overview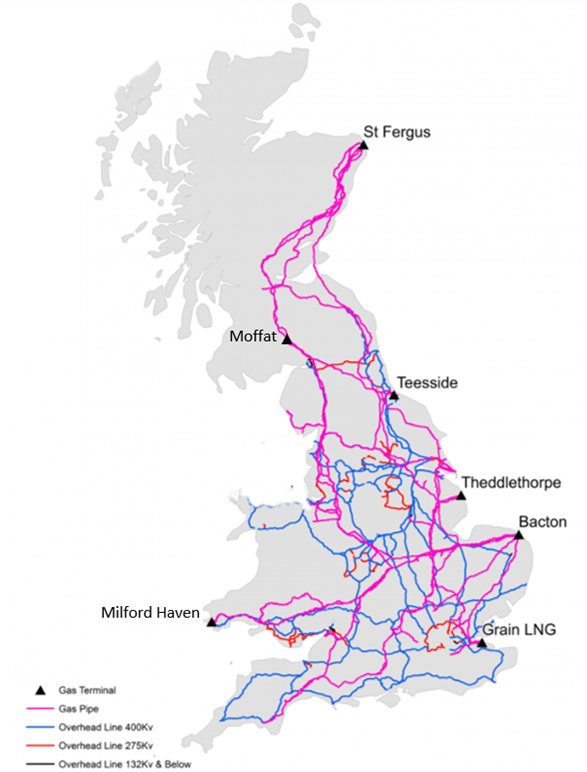 Since its formation, National Grid has operated the electricity transmission network in both England and Wales, which it also owns. National Grid works to ensure that the energy supply and demand in the UK are safely balanced. In addition to owning and operating the high-voltage transmission network in England and Wales, National Grid has an agreement to operate the Scottish high-voltage transmission network. Ownership over the Scottish transmission network is split between Scottish Power and Scottish & Southern Energy. In addition to its electricity transmission, National Grid owns and operates the gas transmission network in Great Britain.
Products & Services
National Grid offers a mix of electricity and gas transmission services across Great Britain. It is important to note that the pound amount reflected in one's energy bill is not all allocated toward energy generation. Non-commodity costs, operating costs, network upkeep, and more, make up roughly 35% of the price of power. While wholesale energy prices have been dropping since 2013, non-commodity costs have continued to increase and will do so year after year.
Additionally, roughly 20% of energy costs go towards financing environmental and social obligations. That leaves approximately 65% of the energy bill left to the distributor. An energy distributor is very important because they handle the physical energy network including the physical cables and substations. There are 14 Public Electricity Supplier areas in the UK that rake in a majority of that remaining 65%.
National Grid Overseas
Overview
Since National Grid began a period of mergers and acquisitions starting in the early 2000's they have expanded further into Europe and into the Northeastern United States. The company owns a number of utility subsidiaries in Massachusetts, Rhode Island, and New York. In addition to the Northeast utilities, the firm's Silicon Valley arm, National Grid Partners, operates in California. National Grid also partially owns the aforementioned energy interconnectors.
Countries & Regions of Operation
Since expansion into the United States in the early 2000's National Grid has continued to acquire more utilities and now employs 17,000 Americans. National Grid US has around 20 million customers across 5+ states. It offers a mix of both electricity and gas transmission and distribution services. National Grid US also follows the larger National Grid Group goal of a future of clean energy.
On the European Continent, each of National Grid's interconnectors with other European nations offers an additional revenue stream. It currently operates three existing interconnectors with three more under construction and two more in the developmental stage. The two connectors in the development stage are both High Voltage Direct Current transmission cables. The first, Nautilus, would be a partnership between England and Belgium and the second, EuroLink, would see the UK partner with the Netherlands. Each of the connectors currently in operation or under construction can be found in the table below.
| | | | |
| --- | --- | --- | --- |
| Interconnector | Operation or Development Partner | Partner Country | Completion Date |
| IFA | RTE | France | 1986 |
| BritNed | TenneT | Netherlands | 2011 |
| NEMO Link | Elia | Belgium | 2019 |
| IFA2 | RTE | France | 2020 |
| North Sea Link | Statnett | Norway | Expected 2021 |
| Viking Link | Energinet | Denmark | Expected 2023 |
Subsidiaries
Official filings with the United States Securities and Exchange Commission indicate that National Grid PLC owns approximately 300 subsidiaries. As mentioned previously, the major subsidiary firms can be found in the Northeastern United States, of which the main subsidiaries can be found below:
New England Power Company
Massachusetts Electric Company
Nantucket Electric
The Narragansett Electric Company
Brooklyn Union Gas Company
Niagara Mohawk Power Corporation
KeySpan Corporation
Boston Gas Company
Colonial Gas Company
National Grid PLC Executive Committee
Officially listed on the National Grid PLC website is their executive committee. The executive committee is comprised of members from both the UK group and the US. Each member of the executive committee has a unique background in the energy industry and strong education that helps propel the company toward a cleaner energy future.
John Pettigrew is a firm official who had been with the company since 1991 and held a number of roles in senior leadership, which took over after Holliday's departure. His prior experience includes education at Harvard Business School, the Executive Director for National Grids UK operations, and the Chief Operation Officer for Gas Distribution and Metering.
Nicola Shaw currently serves as the Executive Director for National Grids UK operation. She completed her education at Oxford and MIT. Her prior experience includes working with the British Government and the European Commission and Parliament.
Andy Agg has held the position of Group CFO since January of 2019. Prior to that posting, he held roles as the Group Tax and Treasury Director as well as the CFO of National Grids UK operation.
Badar Kahn, CEO of National Grid USA, has had a long career in the energy sector. He graduated from the Wharton Business School at the University of Pennsylvania. Prior to serving as CEO of US operations, he was CEO of Direct Energy in Houston, TX, and managing director of British Gas in London.
Adriana Karaboutis currently serves as Group Chief Information and Digital Officer. After graduating with a degree in computer science, she went on to work for Ford, General Motors, and Dell among other roles before landing with the firm in 2017. In her current role, she is in charge of the groups overarching IT and security strategy.
Andy Doyle is the current Chief of Human Resources for National Grid. He has served as the head of human resources at various firms before his arrival and holds a degree from Loughborough University.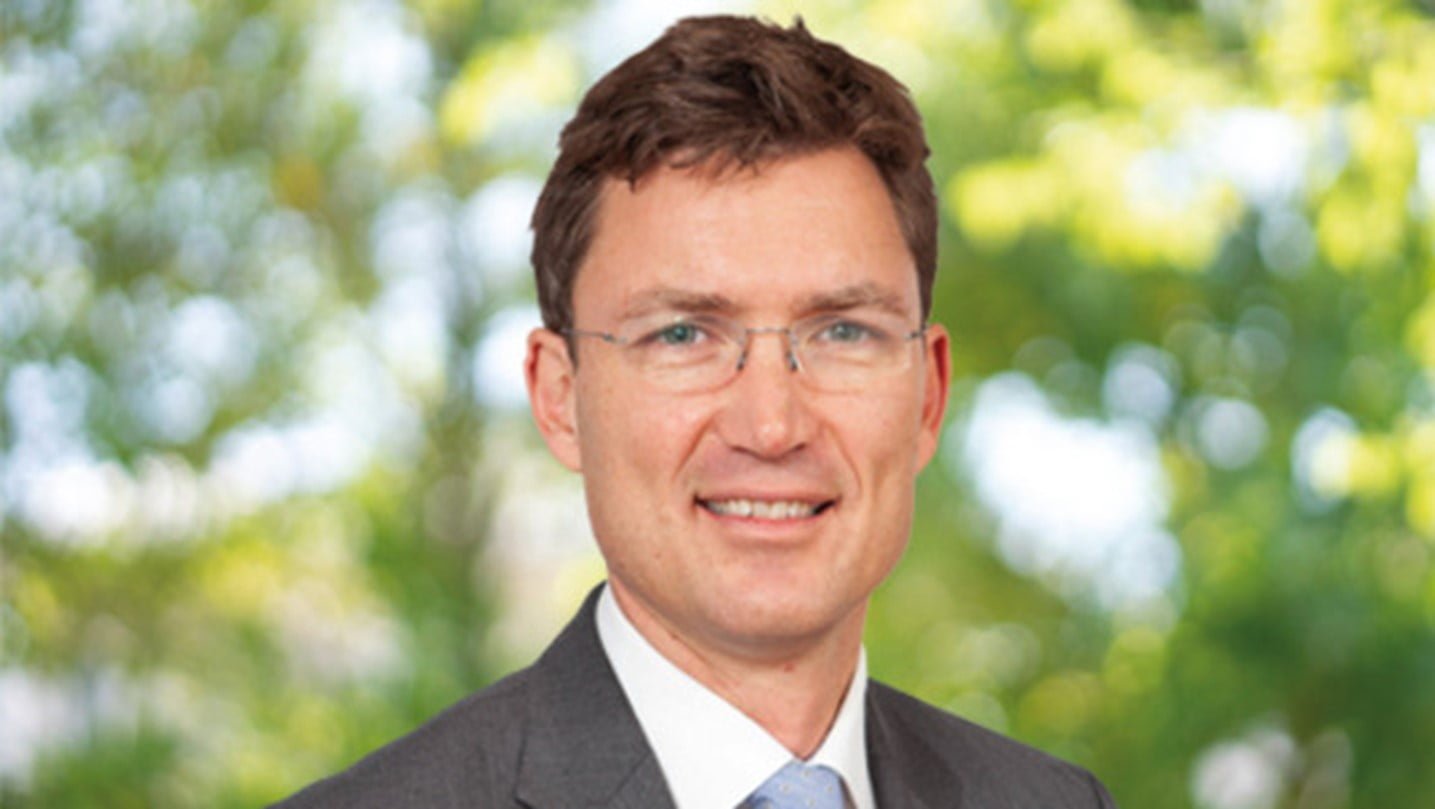 Barney Wyld graduated from the University of Bristol in 1994. Since graduation, he has worked in the House of Commons, for Unilever, and for Rolls-Royce. He currently works as National Grid's Group Director of Corporate Affairs.
Jon Butterworth is the managing director of National Grid Ventures. In that role, he oversees all of the capital investment into various developmental energy projects. Prior to working with the company, he worked for British Gas.
Websites and Social Media
National Grid PLC has a large online presence through its website as well as accounts across various social media platforms. Each of their accounts across different platforms plays a different role in the information dissemination process. On LinkedIn, the company regularly posts updates about the company including recent updates about their intern class for 2020 and testimonials from employees. On Facebook, the company posts information updates and highlights the successes of various employees to engage the community. Arguably the most important platform for National Grid is Twitter. Because utility companies are dealing with everchanging situations with supply, they regularly post updates about interrupted service. In addition, Twitter is one of the fastest ways for the company to engage with customers and is an important feedback loop in the supply process.
Shareholders
National Grid PLC (LSE:NQ)(NYSE:NGG) is a very unique utility in that it is actively traded on multiple global stock exchanges. In July 2020, National Grid was trading at £902.80 on the London Stock Exchange and had a high of £1,067.40 and a low of £799.70 over the previous year. It is actively owned by its shareholders and has around 700M shares outstanding. Because of its listing as a public company, it is considered to be one of the largest publicly owned utility companies in the world. National Grids' price on the LSE was trading at an all-time high of around £1,206 in 2016. In 2020, NQ followed the rest of the global financial market as its share price declined to £799.70 because of the COVID-19 Pandemic. Some of the largest investors in National Grid are banks and hedge funds. Renaissance Technologies LLC owns the largest stake of all investors with 1% of the company. Other major investors include Wells Fargo, JPMorgan, and Merrill Lynch.
Recent News
Throughout COVID-19 National Grid has remained committed to its long term goals which can be seen in a recent release about the feasibility of carbon neutrality in the UK. In a recent release, National Grid stated that it would be possible to be carbon neutral as early as 2033 if the UK commits to using carbon capture technology along with other forms of renewable energy. National Grid US is facing intense scrutiny however with a proposed fracking pipeline through Brooklyn. National Grid is using the move to upgrade its gas pipeline through the borough but opponents are stating that it would do harm to the surrounding areas because fracking is not an environmentally friendly practice. According to the National Grid website, there are multiple people who cover the firm's operations. All of the analysts covering the firm's dealings are either with a bank, including Morgan Stanley, JPMorgan, and Goldman Sachs, and also news websites like Morningstar. The analyst for Morningstar, Tancrede Fulop, recently worked on a piece about the pressure on National Grids dividends because of possible rate cutting by a government official in the UK.
Key Financial Data
The statutory operating profit of National Grid surged by 82% in the financial year 2021/22, reaching £4.4 billion, propelled by the inclusion of Western Power Distribution (WPD) through acquisition.